Pityriasis Rubra Pilaris Nails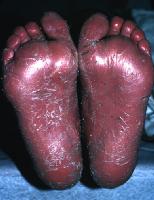 Nail changes include distal yellow-brown discoloration, subungual hyperkeratosis, longitudinal ridging, nail plate thickening and splinter hemorrhages. Nail pitting is not typical.
Discoloration underneath the nail may occur as a result of secondary infection.
Spontaneous separation of the nail plate starts at the distal free margin and progresses proximally. Less often, nail plate separation may begin at the proximal nail (base) and extend to the free edge. The nail plate is separated from underlying and/or lateral supporting structures. Nail plate separation can be confined to the nail's lateral borders (rare).
Treatment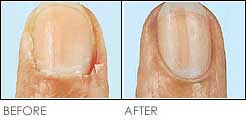 Flexitol Cuticle & Nail Cream - 20gm
Conditions cuticles and smoothes away dry ragged edges
Excellent for split nails
Promotes nail growth
Choose a Nail Condition